TeSys island
Classification:
Product name:
TeSys island
---
Order number:
https://www.se.com/ww/en/product-range/65746-tesys-island/#overview
---
Shortdescription:
Digitally powered monitoring, control and protection of electrical motors up to 80 A (37 kW / 400 V)
---
Product types:
Switching Devices
---
Technology & Profiles:
PROFINET, PROFIBUS
---
Company:

Schneider Electric Automation GmbH
Illustration: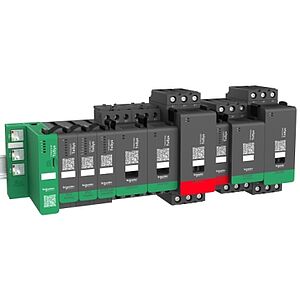 Product description:
Features
TeSys™ island is a digital load management solution that makes machines smarter and more reliable. It's a fully digitized, object-oriented load management system and an Industry 4.0 compliant data provider. It reduces machines' time to market enabling OEMs to move forward in their Industry 4.0 journey. TeSys island gives users easy & remote access to predictive & preventive application data, leading to early diagnostics & maintenance.
Thanks to TeSys island's object-oriented approach Application selection and system configuration is simplified Engineering tasks are automated & reduced Machine installation phase is more efficient
In addition, TeSys island supports major automation fieldbuses as EtherNet/IP, Modbus TCP, PROFINET, and PROFIBUS. It is readily integrated with Schneider Electric's EcoStruxure Machine Expert as well as Rockwell's Studio 5000 and Siemens' TIA portal, nevertheless, it can be easily integrated into any 3rd party automation systems.
• The system manages motors and other electrical loads up to 80A (AC1) or 37kW/40hp at 66A (AC3).
• Up to 20 modules and 1 bus coupler (up to 112cm length).
• Wide catalog of 30 functional objects (TeSys avatars) ranging from the Device level to Application level, encapsulates and abstracts the internal logic and allows automation experts to focus on their application.
• One-click mounting on DIN rail and easy replacement of single devices.
• No control and auxiliary wiring required, thanks to full connectivity over fieldbus.
• All adjustments and setting are digitized, no mechanical dials or dip switches.
• Digital & Analog I/Os available.
• Complaint with international standards (IEC / UL / CSA 61010, IEC / UL / CSA 60947, GB/T14018, EAC, CCC)
• Only 20 commercial references for the complete system, including 5 standard starters and 5 SIL starters for functional safety systems as defined in IEC 61508, IEC 62061 and ISO 13849-1.
• Energy monitoring at every load as well as the system level.
• Cybersecurity embedded into the system (Achilles Level 2) & compliant to IEC 62443 SDL processes.
• Safe Stop TUV certified (Stop 0 and 1 with wiring categories 1 to 4, suitable for PL c, d, e (Performance Level) and SIL 1, 2, 3 (Safety Integrity Level).
• Open connectivity thanks to EtherNet/IP, Modbus TCP, PROFINET, and PROFIBUS fieldbuses.
Benefits
Efficient
• Featuring a catalog of TeSys avatars representing load functionalities and basic applications, conceptual to digital twin in Industry 4.0, TeSys island allows intuitive and simplified engineering of machines while reducing time to market.
• The object-oriented approach of the TeSys avatars allows users to focus on machine design, integration, and control, rather than on the selection and commissioning of each electro-mechanical component.
• TeSys island reduces the number of inputs and output modules (I/Os) for control with the elimination of auxiliary wiring. Users can select the electro-mechanical devices without specific expertise, thanks to the online Motor Control Configurator.
• TeSys island is easy to commission through integration with the EcoStruxure Machine Expert engineering suite and SoMove tool.
• Reduce machine stoppage time with secured remote resets: for a fast and easy restart. Faster prescription of spare parts using QR codes and device replacement thanks to embedded functions and SD cards.
• Fast device replacement functionality (FDR) bypass configuration phase with automatic reconfiguration. Application-specific TeSys avatars available in the library with pre-programmed functionality integrated. The two new configurable application avatars, one for pumping and one for conveyor applications, are designed to ensure easy integration into existing system infrastructures.
A Data Provider
• TeSys island provides data that enables the end-user to make intelligent decisions ahead of time, thanks to pre-alarms that help reduce machine stoppages as well as machine downtime.
• Embedded avatar logic in the TeSys island bus coupler leads to reduced PLC programming time. Seamless integration is achieved through function blocks in the EcoStruxure architecture as well as that of other major automation player's PLCs.
• Thanks to the integrated Operation and Maintenance Tool (OMT) as a web server, commissioning, maintenance, diagnosis, and troubleshooting are easily performed even without the need of the installation of any software.
• TeSys island integrates with EcoStruxure Machine Advisor, part of the EcoStruxure Apps & Analytics architecture. It features a dashboard that displays the energy consumption and other critical data for C-level and plant managers, as well as advanced diagnostics of particular issues.
• EcoStruxure Augmented Operator Advisor, part of EcoStruxure Apps & Analytics architecture, provides the operator or maintenance service with easy, secure access to the live data of the machine while in operation, as well as datasheets, tutorials, and other documents that are used during operation or maintenance.
• By connecting TeSys island to the EcoStruxure Machine architecture, it is possible to track, monitor and increase system performance remotely, and conduct maintenance outside operational hours.
• With Predictive Alarms, users are now more equipped with application status and can take appropriate actions to avoid machine outage.
• With Autonomous control mode, the user can now rely on TeSys avatar logic to control basic application operations based on the sensors on the application (process variable). The Autonomous mode enables TeSys island to control loads independently from the PLC.
Applications
Optimized and high-performance machines installed in:
• Food & beverage
• Material working
• Material handling
• Packaging
And much more!