ABB Ekip COM Profibus DP
Classification:
Product name:
ABB Ekip COM Profibus DP
---
Shortdescription:
Profibus DP communication module for ABB Air Circuit Breakers
---
Product types:
Switching Devices
---
Technology & Profiles:
PROFIBUS
---
Company:

ABB SpA - SACE Division
Via Baioni, 35
24123 Bergamo (BG)
Italy

Marco Stucchi & Massimo Pozzi
Tel +39 035 395111
http://new.abb.com/it
Illustration: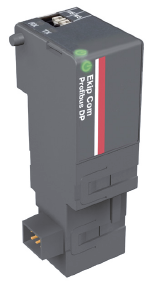 Product description:
Ekip COM Profibus DP is a communication accessory module that integrates the circuit-breaker in an industrial remote supervision and control network. It can be connected to a Profibus DP network, and allows you to:
Connect the releases to the network, with dialog functionality.
Command opening and closing of the circuit-breaker remotely.
Provide information on the state of the circuit-breaker (open, closed, tripped).
If connected to a circuit-breaker in withdrawable version, detect the connected/extracted status.
Ekip COM Profibus DP supports DP-V0 and DP-V1 Class 1 and Class 2 services.