S700
Classification:
Shortdescription:
High performance Servo drive
---
Product types:
Drives, Drives – Servo Drive
---
Technology & Profiles:
PROFIBUS, PROFINET
---
Company:

Kollmorgen Europe GmbH
Illustration: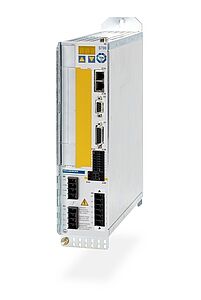 Product description:
The challenges faced by today's mechanical and process engineers include an increasing demand for a broader range of products and services, higher productivity, as well as increased supply availability and Reliability. With its new S700 servo amplifier, Kollmorgen is now able to offer a product that is definitely up to these challenges. The S700 is a fully digital servo amplifier that is ideal for complex drive tasks. You also have the option of using an MMC memory card, which enables parameter records and firmware to be backed up and copied extremely quickly and easily in the field. The S700 integrates a Safe Torque Off function. A digital input disables the amplifier's power output stage, thereby implementing the Safe Torque Off function (safe stop). Advanced safety functions such as "Safely Limited Speed" and "Safe Stop 2" are implemented by means of a safety expansion card.
Main technical data:
Rated line voltage: 1x110V to 230V (only 1,5...24A), 3x208V to 3x 480V
Rated output current: 1,5A; 3A; 6A; 12A; 24A; 48A; 72A
Certifications: CE, UL, EAC, RoHS, TÜV safety tested
Features:
Two-channel Safe Torque Off (STO) SIL3 function onboard
Safety expansion cards available with SIL2 or SIL3 safety functions such as SS1, SS2, SOS, SSR, SLS, SDI, SBC, SLI and SLP.
Macro programming language
Slot for MMC memory card for backup and copy of parameters and firmware