EJA-E Series (EJA-NEXT)
Classification:
Product name:
EJA-E Series (EJA-NEXT)
---
Shortdescription:
Differential Pressure/Gauge Pressure/Absolute Pressure/Level Transmitters
---
Technology & Profiles:
PROFIBUS, PA Devices
---
Company:

Yokogawa Electric Corp.
Illustration: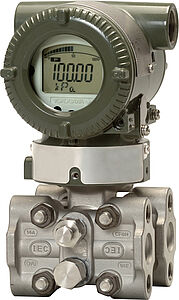 Product description:
EJA-E series (Certificated model name is EJA-NEXT.) are enhanced pressure transmitters, featuring remarkable innovation in multi-sensing technology that makes optimal use of the powerful characteristics of the single-crystal silicon resonant sensor.
[Features]: (1) High accuracy and Long-term stability (standard model; 0.055% and 7 years) (2) They have three independent AI function blocks for differential pressure and static pressure. (3) In addition to being able to perform zero adjustments, the local operation interface can be used to set the Bus address and Ident number by using switch on LCD within Digital indicator code E and external adjustment screw. (4) A reliable self-diagnostic function based on the NAMUR NE107 standard detects failures in the hardware of pressure sensor, temperature sensor or amplifier assembly, measuring range setting, and communications. (5) Totalized process values can be calculated using the PROFIBUS totalizer function block. This enables the EJA-E to output totalized flow rate signals for flow applications.