EGK 25-PN-N-B
Classification:
Product name:
EGK 25-PN-N-B
---
Shortdescription:
Gripper for small components EGK, Size: 25, electrical, Communication interface: PROFINET
---
Technology & Profiles:
PROFINET
---
Company:
SCHUNK SE & Co. KG
Illustration: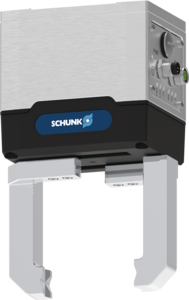 Product description:
The versatile 2-finger gripper for small components SCHUNK EGK was developed for maximum workpiece variety with maximum process reliability. The user has access to the highest level of functionality due to the components embedded in the gripper. This allows the gripper fingers to be pre-positioned at high speed or for dipping into a workpiece holder. The gripping force can be continuously adjusted to the workpiece handling requirement. Workpiece recognition enables full process transparency for the user. In an emergency stop situation, workpiece loss can be avoided due to the integrated gripping force maintenance.
The BasicGrip and SoftGrip gripping modes are available. With BasicGrip, the gripping speed is automatically optimized for gripping force adjustment. Permanent re-gripping is possible. With SoftGrip, fracture-sensitive workpieces can be gripped particularly gently by reducing the impulse forces to a minimum when they hit the workpiece.
Due to a wide range of communication interfaces (eg. PROFINET), as well as PLC function modules and robot plug-ins compatible with the leading manufacturers on the market the integration workload of the EGK is reduced to a minimum.