EL-100-2MA PROFINET Switch
Classification:
Product name:
EL-100-2MA PROFINET Switch
---
Shortdescription:
EL-100-2MA is a managed Industrial Ethernet switch that meets the high standards of PROFINET conformance class B (Netload Class III)
---
Product types:
Hub/Switch/Router/Repeater, other PROFINET Device, other Field Device
---
Technology & Profiles:
PROFINET
---
Company:

eks Engel FOS GmbH & Co. KG
Illustration: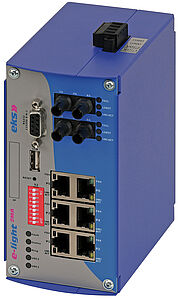 Product description:
The devices of the e-light 2MA product family are Industrial Ethernet switches for harsh environments. They include management features that can be configured comfortably and easily via a web application. These enable low-cost installation of industrial Ethernet bus, star, and ring structures with switching functionality.
e-light 2MA is available in different versions:
Depending on the connector type they can be used with singlemode and multimode fibers.
Furthermore they feature many management functions such as:
Web application for configuration
Redundant voltage supply 12 VDC to 60 VDC with reverse voltage protection
Monitoring of individual input voltages via configurable alarms
Two relay contacts controlled via configurable alarms
10BASE-T/100BASE-TX (RJ45) and 100BASE-FX ( MM or SM)
PHY and MAC completely compatible to IEEE 802.3, IEEE802.3u, and IEEE 802.3x
Auto MDI/MDI-X crossover function for 100BASE-T and 10BASE-T ports
Store-and-forward switching architecture with 2048 MAC address table
Quality of Service (QoS) with four priority queues
Prioritize via IEEE 802.1p Class of Service (COS), Type of Service (TOS)/DiffServ or port priority
Limitation of incoming and outgoing packets
Port mirror for TX or TX and RX packets
Port-based VLAN/802.1Q Tagged VLAN
Simple Network Time Protocol (SNTP)
Simple Mail Transfer Protocol (SMTP) for signaling alarms
Internet Gateway Management Protocol Snooping (IGMP Snooping)
Dynamical Host Configuration Protocol (DHCP) client function
Simple Network Management Protocol (SNMP)
Update, save, and back up the system configuration via TFTP, HTTP and USB
Profinet (Conformance Class B, Netload Class III)