RMC150E Motion Controller
Classification:
Product name:
RMC150E Motion Controller
---
Shortdescription:
Servo Motion Controller (up to 8 axes)
---
Product types:
other PROFINET Device
---
Technology & Profiles:
PROFINET
---
Company:
DELTA Computer Systems, Inc.
Illustration: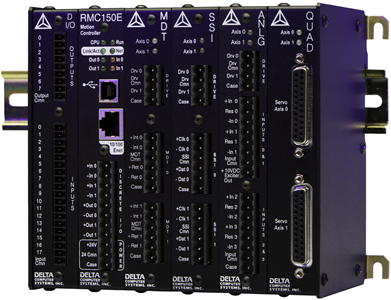 Product description:
The RMC150 series of motion controllers offer a valuable combination of performance and ease-of-use for systems with up to 8 axes of motion.
With powerful control modes–including dual-loop position-pressure algorithms–and multiple feedback types, the RMC150 series provides optimum control to a wide range of hydraulic, electric, and pneumatic position and position–pressure/force applications.
Delta's RMCTools software handles setup, programming, tuning and diagnostics for the RMC200, RMC150 and RMC75 controllers. Excellent graphing features and easy-to-use wizards complement its user programs designed specifically for motion sequences.
The RMC150E supports PROFINET to integrate easily with your favorite PLCs, PCs and HMIs.
Consider the RMC75 for 1- or 2-axis applications or the RMC200 for applications requiring more axes.